Webinars have become, quite possibly, THE most important tool for marketers to help drive demand and accelerate revenues for their organizations. There seems to be a common misconception that webinars are only for lead generation but that couldn't be further from the truth. Webinars should be an important piece of your strategy for every stage of the funnel. The key is delivering the right webinar, to the right audience, at the right time. Here are the different types of webinars you should deliver at each stage of the funnel, ultimately turning prospects into wins.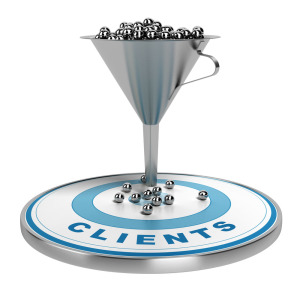 Driving Awareness among Prospects (Top of the Funnel)
These are what we like to call 'top of the funnel' webcasts. The goal here should be to talk about industry challenges and typical pain points your target audience is faced with, and establish yourself as a thought leader/SME. You're trying to build credibility, so now isn't the time to demo/product pitch the audience to death. Instead, you should be able to provide your audience with actionable takeaways that leave them hungry to learn more. You're not necessarily attracting prospects at this stage that are ready to buy immediately (although that would be nice!), but rather those that may be currently shopping for a solution. Provide an interactive experience and content that can help accelerate these prospects through the sales cycle. Give them the ability to ask your presenters questions; download content in the form of whitepapers, product briefs, case studies, etc.; respond to surveys and polls. And at the end of the webinar, have a very clear call to action in terms of next steps, from reaching out to the presenters directly with their questions or scheduling time for a product demo. Once the webinar is over, measure attendee engagement and determine which prospects have ultimately turned themselves into qualified leads for your sales force to pursue.
Turning Qualified Leads Into Active Opportunities (Mid-Funnel)
Your 'top of the funnel' webinar weeded out the contenders from the pretenders, and now these qualified leads are excited to understand exactly how your technology works and perhaps see some real-life examples of where a company/individual similar to them experienced ROI. While I'm always a big proponent of bringing in a third party when possible (I know it's not always possible because customers can be weird about this kind of stuff, and industry analysts and academics can cost an arm and a leg), I believe it's more important here than at any stage of the buyer's journey. Make the customer, and their journey with you, the focus of the webinar. More often than not, your best sales tools are happy customers, so allow them to help you build your business case. Talk about the specific applications your customer leveraged to tackle their challenges and realize ROI, and if applicable, integrating a demo into the mix is a good play here. It doesn't need to be the bulk of the presentation, but 10-15 (+) minutes of product will wet the appetite. If they want more, and if you've done a good job of building the business case they will, you can always schedule a more in-depth, one-on-one demo.
From Evaluation to Purchase
Here they are. They're at the 5 yard line, and it's your job to get them across the goal line. Remember, your audience for this webinar has a specific set of challenges. You've given them real-life examples of your approach to tackling those challenges and now you need to show them how you're different from the competition. Lean on the advantages they'll see in working with an organization such as yours and provide statistics that help strengthen your business case. A lot of times, buyers can experience 'risk avoidance' at this stage. They get worried. They worry about whether or not they're making the right decision by moving forward with you, and whether or not you'll deliver the results you're promising. You need to re-enforce your business case, provide additional examples if necessary, and make them feel confident that choosing your solution is the way forward. Show them the risk they would be taking by NOT moving forward with you.
Even though we're not going to go beyond the 'Evaluation to Purchase' phase of the funnel with today's blog, the webinar strategy doesn't stop there. Webinars have proven to be an extremely effective tool to upsell your customer base. Once a customer is on-board, they're much more likely to purchase from you again…as long as they're happy – but that's another blog for another day.
Remember, for a truly effective webinar strategy that drives results, you need to tailor your webinar content to each stage of the buyer's journey. Develop your webinars with the buying cycle in mind and you'll experience accelerated sales cycles and greater revenue growth.
If you're compelled, please share your feedback below. Talk soon-
 Jason Stegent is the Founder & President of Elastic Solutions. Email him @ jstegent@elasticroi.com.