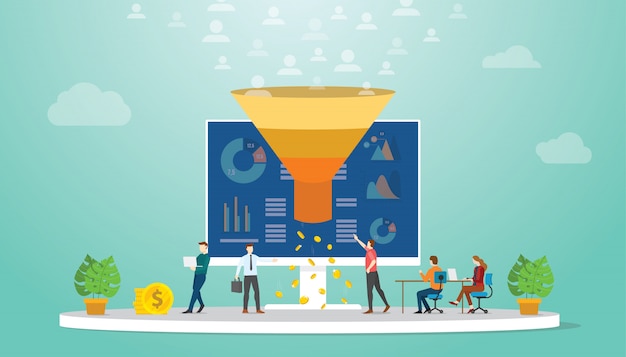 For B2B marketers, lead generation is the name of the game. And not just lead generation, but quality lead generation. Like all other areas of the business, lead generation needs to be tracked and measured religiously to achieve long-term efficiency and success.
As we look at the 2nd half of 2021, here are the 5 most important KPIs for B2B lead generation.
KPI #1 – Qualified Lead Volume
The key word here is qualified. You get to decide what constitutes a qualified lead for your business, which is great. However, don't cheat yourself. Be honest and ask yourself – what is the lead criteria that is the right fit for my business? Criteria like industry, sub-industry, revenue, title, certain pain points, etc. are common, but choose requirements that are specific to your offering and don't settle for anything less.
Defining your specific criteria for truly qualified leads allows your organization to solely focus on leads that meet your requirements, as opposed to wasting time on 'leads' that are out of scope and don't have any revenue potential for the business.
KPI #2 – Qualified Lead to Opportunity Conversion Rate
There's a lot of talk in lead generation about conversion rates, but in this instance, we're talking about the conversion from a qualified lead to a working opportunity. A sales qualified lead (which is what we focus on here at Elastic – we believe the MQL is dead) is a prospective customer that has been properly vetted, checks the right boxes in terms of lead criteria, and is ready to talk to sales and move into a sales process. However, this doesn't mean that they automatically end up being a working opportunity that you can put a dollar figure against. After the lead engages with sales, a lot of things can happen – they learn more about the product and determine it's not for them after all and doesn't fulfill their specific needs; they end up going in another direction, ghost you and never give an indication why; or your sales team did a poor job of discerning what the buyer is trying to achieve and then articulating how your solution can help, and the lead is lost for good. Because of this, it is crucial to track which qualified leads turn into working pipeline opportunities. Marketers can then look themselves in the mirror to determine how they can improve on the frontend, and sales can do the same to determine how they can improve on the backend. Long term, it can lead to better sales and marketing alignment. When sales and marketing efforts are properly aligned, organizations typically witness 38% higher sales conversion rates.
KPI #3 – Revenue & ROI
Let's be honest – the most important top-tier KPI you should track for any lead generation campaign is revenue. You can generate all the clicks and downloads, have all the qualified meetings, and send out all the proposals, but it's all for not if it doesn't result in revenue.
You must also take into consideration that anything worth doing well takes time. And because a well-executed, multi-pronged lead generation campaign is a process with various moving parts, you should plan to measure ROI over a longer period of time. Sure, there are certain lead generation tactics that prove out results quicker than others, and you want to double down on those. However, to holistically measure ROI across every channel you're leveraging to generate qualified leads and drive pipeline, make sure you set proper expectations and give yourself enough time to accurately measure returns.
KPI #4 – Cost per Lead (CPL)
Cost per lead (CPL) is important because it tells you if your marketing and lead-gen activities are working or not. And because we're in this to make a profit, it should never cost more to acquire a qualified lead or customer than the actual revenue you receive from them. A lead needs to be profitable from the very beginning of the relationship.
Calculating your CPL is easy. Simply add up all investments you've made to generate leads (internal/external resources, ad spend, software, etc.), and then divide that by your total lead number. And only include qualified leads when you're calculating CPL. Remember, the key word to focus on for any lead generation campaign is quality. If a lead doesn't meet your qualifying requirements, it's not a lead for your business.
KPI #5 – Customer Lifetime Value (CLV)
Customer lifetime value (CLV) measures how valuable a customer is to your business over the lifespan of the relationship. A lot of organizations fail to properly track the lifetime value of a customer, and that is a huge mistake. They're too shortsighted and aren't looking at the bigger lead generation picture. CLV will help dictate:
The type of leads/customers you want to get in front of and acquire.
How much you can put into your marketing budget to acquire your desired customers.
Which channels to leverage to get in front of your targeted leads/customers.
Which products/services you promote to your targeted audience.
Lead generation is a non-stop engine, and it needs to be constantly tracked and traced. There are a ton of KPIs out there to measure lead generation effectiveness and it's impact on revenue performance, but it's important to find ones that work for your business and processes.
Jason Stegent is the Founder & President of Elastic Solutions. Email him @ jstegent@elasticroi.com